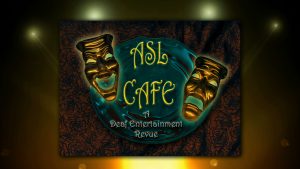 ASL CAFE Premieres on Access Community at AccessNetwork.tv
ASL Café presents various performers, stand-up comedians and storytellers live on stage at a nightclub, which are recorded for the benefit of viewers. ASL Café has its roots in Rochester, New York and currently has its sign language performances in the Maryland area. The show is produced by David B. Strom.
On Access Community, viewers have the opportunity to have access to unique programming in sign language by participating producers in the sign language community. All programming is accessible to people who know sign language. Contact us about participation opportunities.